Thank you for the heads up from my friend, Interior Designer Laurie Rhoney, who emailed me with a link to I Suwannee – a totally refabulous blog about things and stuff by a girl that we know you'll like. She's holding an Open House tomorrow in Clemmons, NC with her fun refurbished furniture projects, home wares, screen printed goodies, flair etc… I'm thinking I'll hit the road to check her out.
Click on the Invitation Image to see I Suwannee's Original Post and don't forget to cruise through her posts for a sneak peek at some of what she'll have available.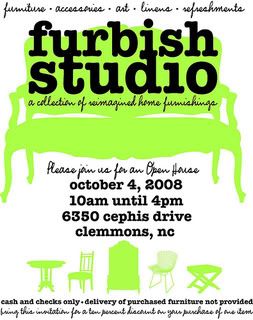 Thanks for playing,

And now a quick word from our sponsors!
SHOP OUR VIBES: