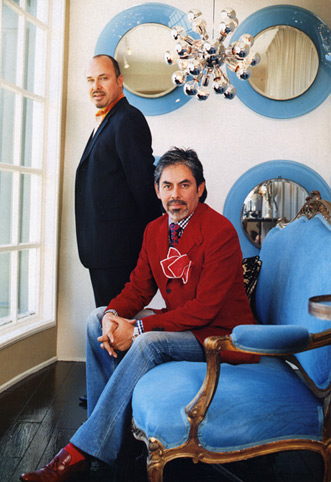 These people are beautiful and so is their store called Downtown. I want to tell you more about the hand selected vintage merchandise and I will soon. My friend Derek took me on Saturday and we met Mr. Robert Wilson and chatted for a bit with him about Downtown. Mr. Wilson is a warmly composed man and it was a thrill to stand around and rap about Interior Design, the travesty of mass shelter magazine collapse, as well as 20th century masterpieces and the next door gallery that sold Andy Warhol's Campbell's Soup cans to a daring buyer for $100 each. We ventured over to that gallery and saw an informal presentation of Warhol's contemporaries. (notably Ruscha, Lichtenstein and I think Rauschenburg – but I saw no labels).
Please visit the Downtown website, downtown20.net and prepare yourself for more than one post as a result of my visit there on Saturday. Mr. Wilson stated that most of their business is done locally, that over 75% is directly to the trade and that they also do rentals to LA's movie and television industry. Please check out their inventory on 1stdibs. If you see anything you must have, well……. perhaps you can have it! I can't. ;)
Enjoy!!Thanks for playing,

And now a quick word from our sponsors!
SHOP OUR VIBES: