Supreme respect for this gentleman. I've mentioned my trip to Downtown before – an awe inspiring establishment, arrayed with antiques as well as an in house collection of furniture production.
That initial visit provided an opportunity to chat with Robert, but I unfortunately missed David. This Friday night our band had its first event DJing an Art show, to which David attended. I had carried thoughts of this canopy chair that I saw in his shop. I was miffed by the triple threat of this canopy, on its italian renaissance base and with a superbly modern mix of fabrics for upholstery. I made Derek listen to me drone on and on about my suprise at that combination on the drive back from that store, going on about european traditional translation of chinese pattern, the resurgence of florals as interesting pattern in modern decor, and the mix of these elements together in this piece of furniture that had kinda blown my mind.
As you can imagine, I pounced on my opportunity to ask David about this chair and the resulting story was pretty incredible. He initially asked me if I was familar with Kelly Wearstler. The chair was conceived for a space that she decorated in New York for restaurant, and was then selected for a French Vogue photo shoot. See image below for final product. The fashion designer had a mix of florals in dress and David, with his gutsy intuition took inspiration and pulled together the dynamic mix of patterns seen on the canopy chair upholstery. He also dropped a little knowledge on me about the origin of the canopy chair.
Well done sir! I was so utterly moved by this piece of furniture and completely thrilled to have had the opportunity to dip into David's well of experience concerning it. Thanks David!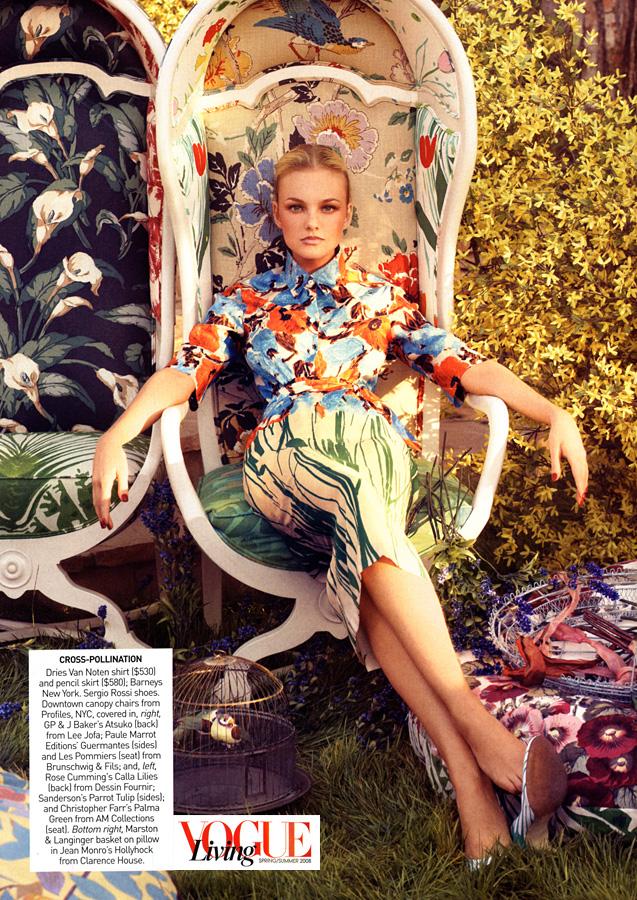 Thanks for playing,

And now a quick word from our sponsors!
SHOP OUR VIBES: