After a long search in both print and on the internet, I think I have found the right source of inspiration for Bungalow 404's kitchen. If you are fairly indecisive like me, then it's a relief to finally settle on a look you want to pursue.
Found on pointclickhome
This kitchen has many elements that I like, they are:
Chrome/Nickel bin pulls
Black countertops
Chrome/glass pendants
White cabinetry
Ebony, gloss hardwoods
Open to dining area
Oh and I think it's important to tell you that I have decided to pack up my little family and move in to Bungalow 404…in case you hadn't already surmised that. My favorite architectural style right now is Craftsman/Bungalow and I couldn't pass up the chance to have my very own. And I am pretty sure Betsy is scouring the MLS searching for one that she can call her own because she's jealous– but hey she gets to go to Europe this Spring.
Back to the kitchen…here are some purchases I have made to outfit 404's kitchen.
At first I was sold for sure on the Phane pendant at Conran but just decided that it was out of my budget because I needed four and at $350 each, they got the boot.
Instead I ended up with the Clemson pendant from Restoration Hardware which I purchased new on Ebay and saved $40.
You'll remember from a previous post that I chose white cabinets, some with glass fronts. I've also selected Absolute Black granite countertops and I've received one quote and am waiting for the cabinets to be installed on 2/9 before I receive the 2nd quote. Â One of the stone companies I am working with advised me that Absolute Black granite tends to show scratches more than his Black Pearl and Black Galaxy stone. I had to just take that advise and move on because I couldn't give up the consistency of the Absolute and I didn't like the shiny stones or filler in the pearl and galaxy.
I purchased this lovely faucet for the kitchen sink after reading the reviews on Overstock and comparing prices.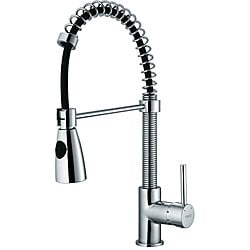 Most of the original flooring on the main level is in fine shape and will be refinished. However, in the kitchen and new dining room, there was a mix between cheap laminate flooring and ugly and worn linoleum. New flooring will be installed Monday and it is a dark Hickory Spice by Somerset Flooring. The salesperson assured my Mom over the phone that it was an espresso-like finish.
This is natural hickory which I think would've been nice for the basement but we got white oak instead.
The contractor will continue the rest of the carpentry and trim work that needs to be done this coming week to prepare for the painters. Â Painters have already started prepping, caulking, sanding and doing some priming. Â The original trim work really needs to be sanded and smoothed to prepare it for paint. They plan to clean and pressure wash the exterior to prepare it for paint on Monday. The pressure is now on to select the rest of the interior and exterior paint colors this weekend. Â I really want to get the outside color just right, I don't want to pull in to the driveway everyday and it not be exactly what I wanted to see, it will bother the hell out of me so…I am going to probably paint a couple of samples on and observe those for at least 48 hours and make a decision from there.Thanks for playing,

And now a quick word from our sponsors!
SHOP OUR VIBES: