For fear of jinxing my New Year's Resolution, I won't type it out explicitly – but okay yes I will type it out explicitly cause I'm already jinxed. It had something to do with putting an end to spending money on my home and/or clothing for 3-4 months and focusing instead on the Vintage Shasta Camper, a Fence for Pollock, a vehicle with which to pull my Vintage Shasta Camper, or uh… oh yeah – federal and state taxes (geez!!).
Yet – the forces of ANTI RESOLUTION have already started their work on me by introducing me to this Secretary at the Antique Market here in Hickory, NC.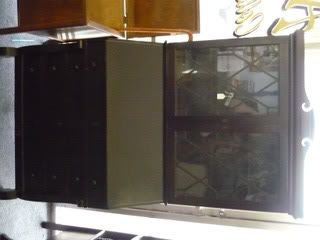 I was just reviewing the Eddie Ross site today and saw his Secretary Desk Before/After shots from his year in review post. There I commented – asking how much he might say was the minimum to maximum that you would want to pay for this piece.  But I have no patience? How much would you pay for this thing and should I even do it!? Help Me!!
And now a quick word from our sponsors!
SHOP OUR VIBES: