You've seen it, here and there and everywhere – I'm sure! Yet, this lovable and quite easy trend was just triply re-enforced with DoorSixteen's post about its staying power. She's amassed quite a great collection of stunning examples of the black wall in action. Did you see them!?
I was reminded that this image was the one that had me at Hello back when it first appeared.
I gave it a shot in my last home. The lighting pretty much sucks in my photos here… but let's take a look for sake of nostalgia. I'll never get to take a better picture than this cause that bathroom is dead to me.  (I do greatly miss my 1500 sq. foot furnished home).
I used a black paint that leaned a little towards grey/brown. I wanted to make sure it was warm and didn't come across feeling blue or purple and soul sucking.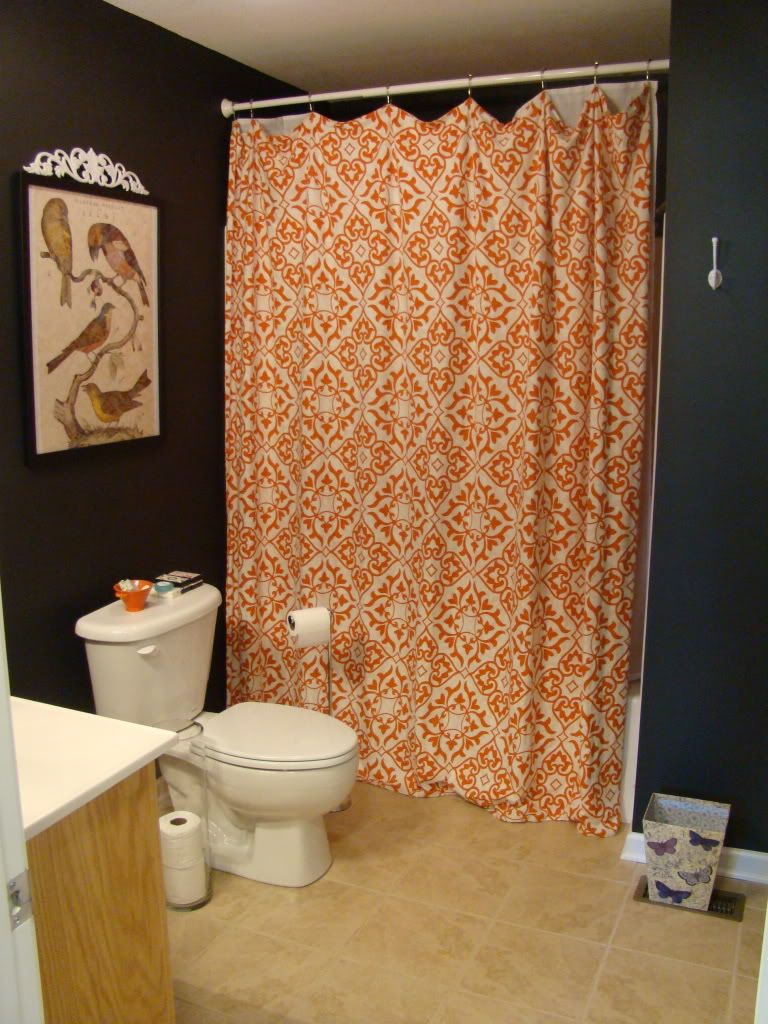 Please note my DIY shower curtain too. Everyone I know owns this duvet from Ikea!! It is a great pattern and I have yet to tire of it. However, I did grow weary of seeing it on my bed everyday!! So, I re-purposed it and now it is my super tall shower curtain! The added height over the tub made it feel just a bit more luxurious. Not bad considering the beige that I started with.
I'm looking forward to making a similar transition with the bathroom in my new joint. I've been in the new place for less than two weeks, and I've only slept there a grand total of 4 nights…. If I was smarter I may have taken some of this holiday time to stick around in LA and put my life together there…. But there is NO WAY I could volunteer to do that when instead I could attend an Avett Brothers concert for New Year's with Sarah and Dan!
If you want more, check out Apartment Therapy's post a Bevy of Black Bathrooms
Thanks for playing,

And now a quick word from our sponsors!
SHOP OUR VIBES: