I've just returned from my European Vacation (where we did what we could to conquer all of Europe in 10 days – just as a good American should) and I promise that I have some fun and interesting things to share with you! I am begrudgingly settling back into my life but I have missed you. I will tell you my thoughts and discoveries from my adventures and I have a feeling that strolling about Kematen in Tirol may render an Estate Envy post if not a slew of them – seeing as instead of organizing my hundreds of photos to share with my family (like a good girl) I fell asleep last night with my laptop open to http://immo.tirol.com
Okay, so Hi! Welcome back to reality!
Observation #1 – All over Europe, in Germany, Austria, Italy(particularly Italy) and in France – everyone is still in love with Nendo's Ribbon Chair manufactured by Cappellini. Are you!? I kinda am!!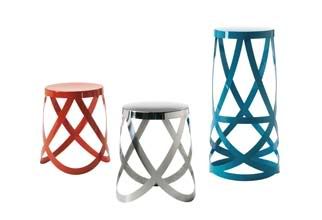 Thanks for playing,

And now a quick word from our sponsors!
SHOP OUR VIBES: