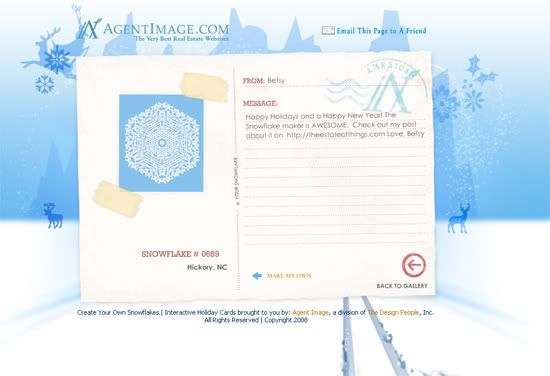 Just a quick line y'all. I haven't told you much about the company that I work for! Its a fun Web Design Studio full of talent and love for the craft. For the holidays they have this super neato Snowflake maker made using Flash.
Please check it out. And send a beautiful handmade Snowflake to all of your friends and family!! Or – if you are still stuck in the office somewhere dreaming about the upcoming holiday, use this to soak up a little time.
Oh yeah, and while you are at it!! Here is another fun time-soaker for the Holidays!! My friends FRANK and Drew are the brains behind this one: Where is Santa?
Please don't forget to drop us your nomination: The Estate of Things for Best Home Design Blog of the Year on Apartment Therapy!! We're really excited to see the nominations coming in!!
Love to death,
BThanks for playing,

And now a quick word from our sponsors!
SHOP OUR VIBES: