This holiday is ALL about the food. I know you're supposed to take a moment and be Thankful for things – a day to be reminded that we take things for granted all too often, Before we pray for our Turkey dinner, my Dad tries to get everyone to share something deep and meaningful that they are thankful for. I'm always thankful that there is a holiday that is completely devoted to overeating and napping.
This year I will also be incredibly thankful that I'll be HOME for Tday. This will be my first Thanksgiving in North Carolina in several years and I'm looking very much forward to it. I'm participating in the food preparation this year by bringing the following items to our Mom's Side of the Family Soiree. I'm including the recipes for you…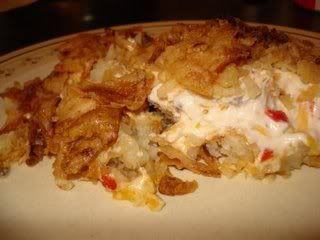 Tater Tot Casserole
This comes from my beloved friend and former roomate – Joel. He introduced this dish to me at our first LA Thanksgiving meal and I can't thank him enough. Its my new tradition – I'm taking it for my own. You are ONLY allowed to eat this dish on special occasions – or you might die. I can think of several ways that you might die from this dish.
1 (32-ounce) package frozen potato rounds
1 (16 ounce) container sour cream
2 cups shredded Cheddar cheese (yeah I said 2)
1 (10.75 ounce) can condensed cream of mushroom soup
Some Onion
Lastly – if you are into a little kick or just want some color – toss in your favorite kind of peppers. I'm gonna try chopping up some of those little yellow Chiles. Note: These peppers would be a deviation from the Joel Family Recipe.
Preheat oven to 350 degrees F (175 degrees C). Grease a 9×13 inch-baking dish. Arrange tater tots in the prepared baking dish. In a mixing bowl, combine sour cream, chopped onion, peppers, cheese, and mushroom soup.Pour the mixture on the tater tots. Bake in at 350 degrees for 45 to 60 minutes
Sweet Potato Bread
I learned how to make this in High School Home Economics and well – its delicious. I used to skip on the nuts and use raisins instead. I think it might be neat to try it out with some Craisins…. You know what I'm talking about!? Little dried cranberries. That might give it an extra holiday kick.
3 c. sugar
3 c. flour
1 c. chopped nuts
1 tsp. cinnamon
1 tsp. nutmeg
1 tsp. salt
1 tsp. soda
1 c. oil
1 c. cooked sweet potatoes
4 eggs
Mix enough to be well blended. Pour in well-greased and floured coffee cans (3). Fill half full. Bake 1 hour at 350 degrees.
Homemade Cranberry Sauce
Obviously its a simple recipe….. Just don't fall victim to canned cranberry product. I must guess by the towering tree of cans in my local grocery store that many people do this and I just can't let you. Here….
1 quart cranberries
1 cup water
1 3/4 cups sugar
citrus for flavoring (I really want you to shave the peel off of a delicious orange)
The general rule is: Use 1/4 as much water as cranberries. Add 1/3 as much sugar as cranberries.Wash and pick over cranberries, discarding any that are soft. Bring water to a boil; add berries. Cover and cook over medium low heat until berries have burst outer skin.
Add sugar and boil a few minutes longer. If desired, cranberries may be strained before sugar is added. A few tablespoons of freshly squeezed orange or lemon juice may be added along with a little grated citrus peel, if desired. They say a tablespoon of frozen orange concentrate is also a nice addition but I don't know anything about that. You just gotta taste it as you go.
NOTE: I would not expect that this blog is going to take you into any kind of food/kitchen lifestyle categories on a regular basis – not unless Sarah and I are both magically transformed into uber homemakers…. and with that note – please also know that my recipes and their output is totally unassuming and easy. The focus here is on delicious, normal, good ole dishes that are easy to make and take to a potluck style Thanksgiving Dinner. That's how I roll Eddie Ross – and I'm probably just using a plain old casserole dish, so there.
P.S.
Holy Crap… look at this Peach Stuffing . I think I'm gonna try this one too. What are you cooking?
Thanks for playing,

And now a quick word from our sponsors!
SHOP OUR VIBES: