I'm in the market for a Vintage Camper Trailer.
I got this insane idea that I needed one immediately and got to work bidding on Ebay yesterday. I haven't won any auctions yet. I'm trying to slow my roll, do a little research and hopefully I will stumble upon the perfect camper trailer for me.
The Shasta is my object of desire.  There are many leftover 1950s, 60s & 70s models out there and they have all of the character a girl could ever ask out of a mobile home including Wings… Specifically, there is this 13ft model that is light enough for me to pull with little effort.
You can imagine the fantasies playing in my mind for renovating an interior and setting up a little homey home for me and my Newfoundland, Pollock that I can take on the road. I'm thinking that an epic 4 month cross country tour of the National Parks is in my near future. If not that, then a few good weekend trips here and there.
What's better than a home that I can take with me on the road? I can't wait to be a gypsy. I want to be a gypsy!!
Here are a few different Exterior & Interior Shots of on-the-market Shasta Camper Trailers that I've been salivating over. Do you think that I will be able to make this a reality?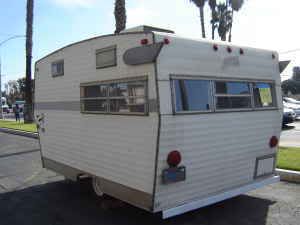 UPDATE:
We made this a reality, two times. It's funny to think that back in 2009, these were the best examples I could find in my online research. My dad and I ended up taking to the country roads around my small hometown of Hickory, NC and we found a 1968 Shasta Compact in an old field. It's pictured below.
These days, there are tons of camper renovations available online, and lots of sweet Airbnb options for a weekend getaway. There are also some wonderful Instagram accounts to follow. I am documenting the best of what I stumble upon on Pinterest.
Here is a snap of the 13foot baby that I got soon after this post and a snap of the 16foot 'canned-ham' that I got my hands on with the dude, here in Los Angeles. Both are in the slow process of receiving their renovation.

Thanks for playing,

And now a quick word from our sponsors!
SHOP OUR VIBES: