The time has come my fair friends. We have discussed these curtains more than once.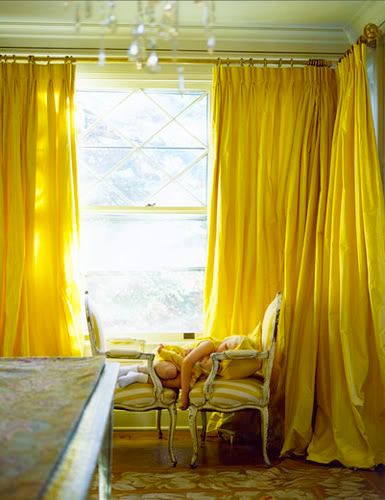 My arrival back to my Santa Monica apartment met with me with a box full of lined yellow silk curtains. I put out a help me post to see if the world could make my dreamy curtains a reality. Several of you responded including Jamie from isuwannee.com. She got the hook up! It took some time, cause as I declare over and over and over….. the pockets are shallow.
Roomate Kate and I agreed that these would make the statement and we scraped our extra monies. We didn't save much more money compared what I had imagined it might cost to start with the fabric I found in the garment district, but there was ZERO headache, and the final product is significantly more like the above photo than what I had found. I will need to pleat myself, and there is still hardware to purchase and hang close to the ceiling…. but since there are yella curtains laying all over my living room with great anticipation, I thought I may as well go ahead and share them. (carelessly tossed over the vertical blinds – which need to come DOWN asap…..)
What do you think!? (get yours from Jamie's Furbish Studio.)
Thanks for playing,

And now a quick word from our sponsors!
SHOP OUR VIBES: