I wanna eat this, multi-textured tile BLACKSPLASH from the Heath Ceramics website. Great. I want my boyfriends to have it. (sans horizontal cabinetry)
I also want my boyfriends to stack up a bunch of mis-matched vintage stereo speakers and line them up against a wall. I recall a time when Urban Outfitters had speakers all over their stores. I really loved the resulting aesthetic. I was just reminded of this by one of the blogs in my reader that I most love. There's Something Hiding in Here.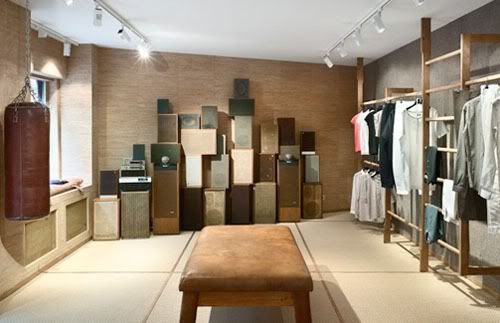 Okay, just one more. We've talked about chalkboards and chalkboard paint quite a bit here at TEOT. Perhaps we've talked about it enough…. after this. Cause, I'm making up fantasies about what my boyfriends' homes could be like, and I imagine that at least one of them should have a room that is fully painted as a chalkboard (like the boy from 500 Days of Summer). Then I can draw on it in my PJs when I go for sleepovers.
Thanks for playing,

And now a quick word from our sponsors!
SHOP OUR VIBES: