My husband and I were married in 2005 on the bank of the New River at a place called The River House in Grassy Creek, NC.  It was to say the least an amazing day, one that we often wish we could relive…but we won't do that now.  A year's worth of painstaking planning went in to that day but one of the most memorable and pleasant parts of that planning was the selection of our wedding stationary.  After meticulously researching stationary options, I settled on Hello!Lucky after finding them in Martha Stewart Weddings.  Once I began working with Eunice & Sabrina Moyle, I knew I made the right choice.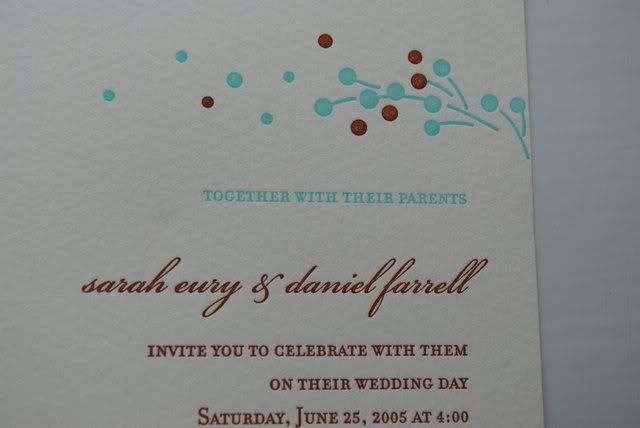 Eunice and Sabrina Moyle founded Hello!Lucky in 2003, a custom letterpress print and design studio based in San Francisco.  With offices in the SOMA district of San Francisco and in London, Hello!Lucky's clients worldwide include Anthropologie, Kate's Paperie and LIberty of London.  Hello!Lucky offers wedding invitations, greeting cards and personalized stationary.
My personal experience with Hello!Lucky was a 100% positive one, being 3,000 miles away from the designer didn't hinder the experience at all.  Never anything but pleasant and enthusiastic, Hello!Lucky produced an invitation that was perfect for us.  I am a forever fan.  Glad this post gave me a reason to pull my invitations and programs out of the box again and reminisce some.
Eunice and Sabrina were kind enough to entertain a few questions about small business, sources of inspiration and most importantly… their most recent purchases for their homes.
Q- Is your education and experience rooted in design? How did you both get your start?
A – Yes, we both studied art and design in college (Eunice has a degree in illustration and printmaking, and Sabrina has a degree in Art History). We started the business together in 2003; Eunice had been working as a freelance designer for a few years, and Sabrina was working in the nonprofit art world and then attended business school. With our combined backgrounds in art and business, we thought we'd make a go of starting our own stationery company!
Q- Hello!Lucky has had a significant amount of success since it's start in 2003.  What are the top three hints or bits of advice you can give a beginner in business?
A-1) Be yourself. A successful business has to have its own, unique identity, particularly if you're in the creative field. Don't worry too much about what your competitors are doing and just be you. If people love what you do and think it's original, word will get out and success will follow!
2) Be realistic. Starting a successful business requires 3 things:
A clear strategy. Know your market, what they like, what they can afford, where they shop, etc. Then make sure you can deliver the goods at a price that still allows you to pay your rent (it can take years, but if the model is realistic, you'll get there eventually!)
Talented people. Make sure you have partners, advisors or staff who have skills in all the key areas you need to make a business successful: not just the creative side, but strategy, marketing, finance/budgeting, and operations. If you're starting out and learning all these skills yourself, realize it'll take a lot of work, but beats anything you ever learned in school! Hang tough, and start small.
Capital. Small business is notoriously tough, particularly in the current economic climate. You need a source of cash for start-up expenses and to grow your business, whether it be your savings, friends and family, or a bank loan. If you don't have a financial cushion of some sort, you might find yourself in a crunch with no option than to shutter the business – try to avoid this by planning carefully and being extremely prudent with expenses.
3) Be strong. There are so many ups and downs in small business. You have to have an iron will to get through the ups and downs. Be persistent, and try to have a balanced view of both the postive and the negative.
(We have to give credit to The Bridgespan Group, where Sabrina used to work as a non-profit consultant for this basic framework – it applies to small businesses, too, and is absolutely true!)
This was such a large post that we decided to separate it into parts. Please return tomorrow for Part II of the interview and photos of Eunice and Sabrina's interiors.Thanks for playing,

And now a quick word from our sponsors!
SHOP OUR VIBES: