My valentine does not want a loveseat, but I do.
              
Card from Laura George at Dwanda, courtesy of Print & Pattern
 
Bungalow 404 has a two-part living room. We converted what used to be the dining room in to an extension of the living room.  These two rooms are separated by french doors. The TV has to be mounted over the fireplace in the front room (not what I originally envisioned but it had to be this way) so the living room part two will probably become a sitting room/library.  I have a suitable sofa for the front room with the TV but I'm currently in search of an affordable loveseat or settee for the library that has a classic quality. Vintage or antique is not out but I'd probably have to have it recovered because I'm looking for a deal and deals sometimes have ugly or dated upholstery. 
After taping off the shape and measurement of a sofa in the room, I've determined that it needs to be well inside 70″.  There is room planning software and download options out there and I have used them before but there's nothing like really visualizing the scale and size in the actual room.  Which one do you like the best?
These are some of my considerations,
EQ3, Solo, 57″ wide, $649
EQ3, Saga, 64″, $749
 
EQ3, Tavern, 67″, $749
IKEA, Karlstad, 65 3/8″, $579, Remove cover for dry cleaning
Sofa (UK), Jackson, 69″, $1131.67, Biscuit linen, fabric can be dry cleaned, I really think these two seaters from the UK's sofa.com are really dreamy. This is what I really want!
Sofa (UK), Bluebell
Lee, 44-02 slipcovered loveseat, 65″
 
Crate & Barrel, Troy Twin Sleeper, 53″, $999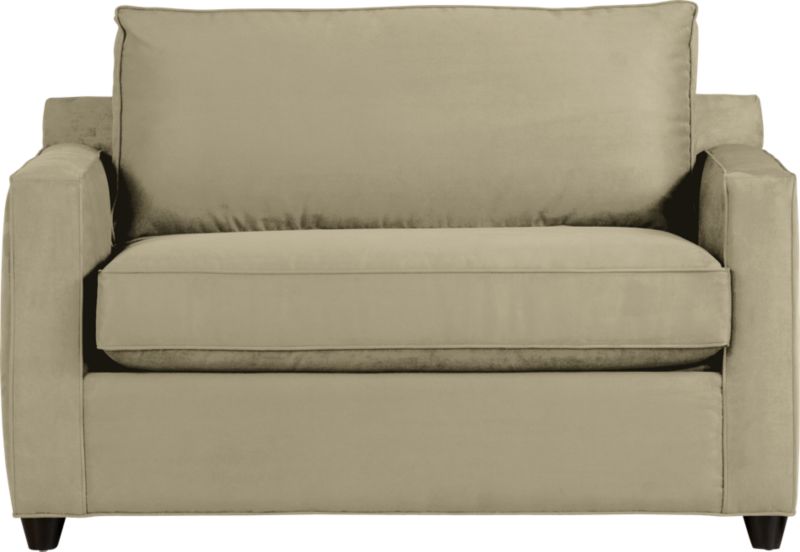 Pottery Barn, Marcel Mini Sofa, 55″, $899
 
 
 
 
 
 Thanks for playing,

And now a quick word from our sponsors!
SHOP OUR VIBES: