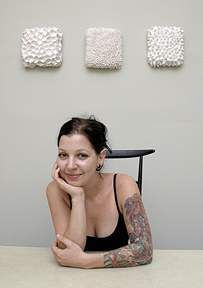 I think I have a crush!
We were playing around in Asheville, North Carolina the other day, ducking in and out of little shops and eating delicious foods. Cruising through the booths at Woolworth Walk , I spotted Etsy Seller Heather Knight's work. It was one of the more impressive booths in the entire place. In the shop, I especially dug the Aneneome & Atomic Bowls from her Environmentals Collection, the ones that are glazed on the interior. I've included a few examples of favs from her Etsy shop (click on the image to view it on Etsy), and you can check out her full collection on her website here: http://www.heatherknightceramics.com/
And now a quick word from our sponsors!
SHOP OUR VIBES: