Mine was Little Red Riding Hood, the Grandmother AND the Big Bad Wolf. The flip doll usually came as a fabled friend/foe combo. They were story-telling dolls and I remember the joy of sitting at the librarian Mrs. Spuller's plump feet as she spun me into fantasy land with these at her lap.
The doll is double bodied and separated by a long skirt so you need merely to turn the skirt upside down for a brand new character. Some may come with an additional accessory, for example – it was the bonnet that turned Grandma into the BBW with my childhood doll.
I'm totally interested in these as a come-back kitsch item. I'm looking around for them and I did stumble upon a cute little seller called "UmbrellaPrints " with something similar. It's not quite the same thing – but the concept is there. Not to mention, their fabrics are desirable and I was thrilled to learn that they are screen-printing them themselves.
So, now I'm thinking and dreaming of a DIY flip-doll project. I went out and bought the stuffing and some fabrics. We'll see how it goes.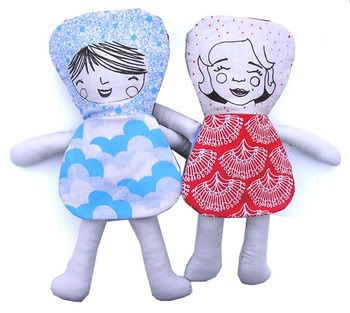 UmbrellaPrints makes a similar concept doll – flip over a flat piece of fabric for a new facial expression and different outfit.
See Kiki Smith 's "Owl and the PussyCat" Flip Doll that she made while she was acting as Artist-in-Resdence at the Fabric Workshop and Museum
Thanks for playing,

And now a quick word from our sponsors!
SHOP OUR VIBES: