It's pretty apparent that yellow and grey is a fantastic combination.
What's more fabulous….orange and grey?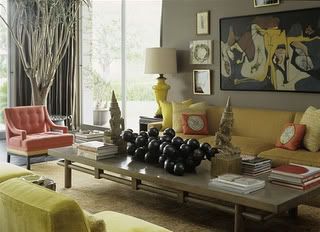 Kitchen at Sheila Bridges' guest house
Image via Desire to Inspire
Wedding Invite by Bella Figura
the almost played out yellow/grey bedroom from Domino
Calendar pillow from June Prints
i heart linen flickr, i heart linen's pretty blog about getting crafty
This combo also seems to be a wedding color trend
Abby Goes Design Scouting via Desire to Inspire via The Rug Company (how about that for search)
Thanks for playing,

And now a quick word from our sponsors!
SHOP OUR VIBES: